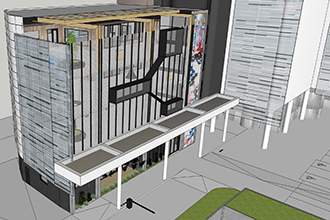 A $650,000 2016-17 New Early Learning Facilities grant from the Victorian Government will help the Walter and Eliza Hall Institute of Medical Research to establish a new, purpose-built Early Childhood Education and Care facility.
The centre, which will open in 2018, will offer care for up to 100 children at the Institute's Parkville campus.
Announced today by Minister for Families and Children, the Hon Jenny Mikakos, the grant is part of a $60 million commitment by the Victorian Government to help families access childcare closer to home, through a major investment in children's centre infrastructure.
Walter and Eliza Hall Institute director Professor Doug Hilton said government support for the facility would ensure vital support for parents in the Victorian medical research sector who dedicate their working lives to the health and well being of our communities.
"Parkville is Australia's largest health and medical research hub and there is a high demand for childcare from healthcare professionals working in the precinct," he said.
"We are excited that the Victorian Government is supporting this initiative that we are so passionate about."
"I'm proud to say we have also received incredible support from the philanthropic community resulting in $2 million dollars in donations from our supporters," Professor Hilton said.
"The establishment of an innovative and flexible Early Childhood Education and Care facility will address the shortage of local childcare places experienced by Parkville employees, providing families with access to broader childcare options," he said.
Associate Professor Marnie Blewitt, co-chair of the Institute's Gender Equity Committee, said access to childcare had been identified as one of the biggest obstacles facing women's career development, particularly in medical research.
"The Institute's commitment to the new Early Childhood Education and Care facility is particularly important in providing additional support for working women with family responsibilities to continue their careers.
"Addressing this issue and taking action to redress gender imbalance will ultimately lead to more discoveries that will improve health outcomes in Australia and globally," she said.
For more information:
Arunee Wilson
Media and Publications Advisor
P: +61 3 9345 2719
M: +61 475 751 811
E: wilson.a@wehi.edu.au