Research working towards the development of vaccines that can stop ovarian cancer coming back has been bolstered through new Victorian Government funding.
The grant from the Victorian Medical Research Acceleration Fund (VMRAF) will help accelerate the clinical translation of a groundbreaking ovarian cancer trial co-led by WEHI and RMIT University.
The trial focuses on women who respond exceptionally well to ovarian cancer treatment, with the new grant enabling researchers to better understand these "super-responders" and use these insights to advance work on designing vaccines that can prevent recurrence.
The grant was announced by Victorian Minister for Innovation, Medical Research and the Digital Economy The Hon Jaala Pulford MP, as part of a new round of VMRAF funding.
At a glance
WEHI-RMIT University research team awarded more than $498,000 by VMRAF for translation of a groundbreaking ovarian cancer clinical trial.
The trial aims to understand the biology of ovarian cancer "super-responders" and learn how to trick a patient's immune response so more women can benefit from treatment.
Funding will help translate this knowledge to develop vaccines, diagnostic and prognostic tests to boost the number of ovarian cancer patients who achieve long-term remission.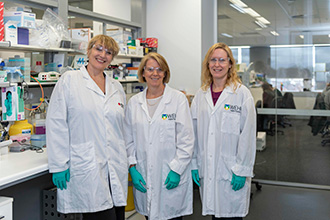 Every year more than 1200 women are diagnosed with ovarian cancer in Australia and nearly 1000 women die from the disease.
Project co-leader Professor Clare Scott AM said survival rates for ovarian cancer have not improved in over three decades, with one Australian woman dying from the disease every eight hours.
"Women with ovarian cancer have been waiting for more than 30 years for effective therapies to change the dread that inevitably follows their diagnosis," Professor Scott, Joint Head of the Clinical Translation Centre and Laboratory Head at WEHI, said.
"This funding will enable us to work out what makes 'super-responders' so special and kickstarts the next stage – towards the development of new vaccine-based strategies for ovarian cancer.
"Our ultimate goal is a vaccine that can stop ovarian cancer coming back and could even be effective for preventing recurrence of other cancers.

"We are grateful for this funding support to rapidly accelerate the pace of our research, so that more women can benefit more quickly."
Fighting recurrence
Despite good responses to initial surgery for ovarian cancer, more than 70% of women will experience recurrence, usually within the first three years. Most of these women will eventually die from their cancer.
To improve these outcomes, WEHI's Professor Clare Scott AM, Associate Professor Chee Lee (NHMRC Clinical Trials Centre, University of Sydney), Professor Michael Friedlander (Prince of Wales Hospital, Sydney) and RMIT University's Professor Magdalena Plebanski co-designed SOLACE2, a Phase 2 clinical trial running in 15 hospitals across Australia.
The trial aims to identify which women with ovarian cancer are most likely to be cured by early treatment with a combination of immunotherapy and PARP inhibitor therapy.
PARP inhibitors (PARPi) prevent cancer cells from repairing, allowing them to die. The powerful treatments have had unprecedented success in achieving long-term remission for some women with ovarian cancer.
The SOLACE2 trial is creating detailed immunological profiles of these super-responders as well as tracking the presence of antigens and neoantigens, which help boost the body's immune response against cancer cells, to predict if a tumour is likely to return or spread.
 The new VMRAF funding will support work to better predict who is likely to be a super-responder and identify target antigens to enable the development of vaccine-based strategies, including for other women with ovarian cancer.
Vaccine vision
 RMIT University's Distinguished Professor Magdalena Plebanski, project co-leader and SOLACE2 Translational Research Chair, said the multi-disciplinary research team would work towards the development of two types of vaccines to fight cancer. These would be personalised vaccines that can boost an individual's immune response and vaccines to promote broad immunity.
 "Innovation in vaccines boosted by the COVID-19 pandemic offers new pathways to deploy potential vaccines against non-traditional vaccine targets, such as cancer," said Professor Plebanski, Head of the Cancer, Ageing and Vaccines Laboratory at the School of Health and Biomedical Sciences and Director for the Biomedical and Health Innovation Enabling Capability Platform at RMIT.
"We are grateful at the Cancer, Ageing and Vaccines Laboratory for this timely funding, which enables us to identify key targets for ovarian cancer vaccines.
"As well as identifying targets to help treat and prevent recurrence of existing cancers, our ultimate aim and motivation is to have vaccines that stop the cancer from taking root and spreading in the first place, which will help to prevent enormous suffering."
Researchers will also work on new diagnostic and prognostic tests, including cancer and immune biomarkers, to precisely predict how well a patient will respond to PARPi/immunotherapy treatments.
The new project leverages WEHI's extensive expertise in bioinformatics and analysis of genomics data, led by Principal Investigator Professor Tony Papenfuss.
The machine learning framework built for the project will also be relevant to other immunotherapy biomarker discovery projects, with the findings to be used for the development of treatments for other cancer types.
Impactful collaboration
WEHI Director Professor Doug Hilton AO said recent industry investment in new technologies for vaccine development, scale-up and production in Victoria offered great potential to streamline vaccines created from this research.
"We know that multi-disciplinary collaborations like these are critical to translating impactful science into tangible outcomes that will make real differences to peoples' lives," Professor Hilton said.
"But the translation of world-class Australian research into new therapies, like vaccines, is often hampered through a lack of funding to progress the research.
 "This grant will not only accelerate the translation of this much-needed ovarian cancer research, but also increase capability, knowledge and expertise across the Victorian medical research sector."
The SOLACE2 trial is being conducted by the Australia New Zealand Gynaecological Oncology Group (ANZGOG) in collaboration with the NHMRC Clinical Trials Centre, the University of Sydney. The trial is sponsored by the University of Sydney, and is conducted with support from AstraZeneca and its Group of Companies (SLHD RPA HREC Approval Reference: 2019/ETH07640).
---
Media enquiries 
M: +61 475 751 811
E: communications@wehi.edu.au