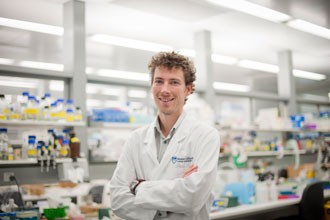 Dr Seth Masters has been named a 2012 Victorian Young Tall Poppy by the Australian Institute of Policy and Science for his research into the link between inflammation, chronic disease and cancer.
A laboratory head in the institute's Inflammation division, Dr Masters is investigating how the inflammatory responses in the body can go awry in cancers and in chronic diseases such as rheumatoid arthritis, Crohn's disease and diabetes. Dr Masters was one of 12 Young Tall Poppy finalists from Victoria.
The immune response responds to infection in two 'waves'; a rapid and non-specific response called innate immunity, and a slower but more specific response called adaptive immunity.
Dr Masters studies the innate immune response, which is the body's first line of attack against infection. His research focuses on the signalling pathways that occur inside immune cells, alerting the cell to a bad infection and kick-starting the inflammatory response.
"The aim of my research is to understand how the body differentiates a bad infection from the harmless microbes we encounter in the world each day" Dr Masters said. "When this process goes wrong, inflammation can be triggered at the wrong time, for too long, or even in response to our body itself."
Inflammation is an essential part of the immune response. However, as with all responses in the body, the signalling system can go awry after long periods of time, leading to chronic diseases and cancer.
"Sometimes people are born with genetic mutations in these inflammatory pathways, causing the body to continually try to fight a non-existent infection, which can be fatal very early in life. By better understanding how these pathways work, and which pathways are involved, we have been able to implement therapies that are life-saving. We are now finding the same pathways are overactive in sepsis, type 2 diabetes and cancer, which is where these therapies are headed." he said.
Dr Masters completed his PhD at the Walter and Eliza Hall Institute before travelling to the National Institutes of Health in the United States and Trinity College Dublin in Ireland, to undertake postdoctoral research. In 2012, Dr Masters returned to the institute as a laboratory head in the institute's Inflammation division, and was awarded a Victorian Endowment for Science, Knowledge and Innovation (VESKI) Fellowship in March 2012, with $150,000 in funding to support his research.
Professor Ian Wicks, head of the institute's Inflammation division, said that Dr Masters is a rising star in medical research. "Seth is an outstanding young scientist who shows passion and creativity in his approach to science. He has already made significant contributions to the understanding of inflammation and inflammatory diseases that may be of major clinical importance in the future, and it is a pleasure to see him receive this award," Professor Wicks said.
The Tall Poppy Campaign was created by the Australian Institute of Policy and Science to recognise and celebrate Australian scientific and intellectual excellence and to encourage younger Australians to follow in the footsteps of outstanding achievers. Previous Tall Poppy award winners from the Walter and Eliza Hall Institute include Dr Chris Tonkin, Dr Jake Baum, Dr Kylie Mason, Dr Ben Croker, Dr Benjamin Kile and Professor Doug Hilton.
Further information:
Liz Williams
Media and Publications Manager
P: + 61 4 9345 2928
M: +61 405 279 095
E: williams@wehi.edu.au