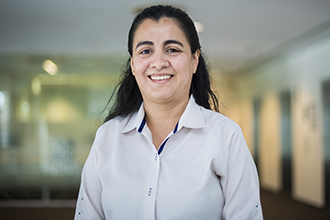 A sweet new study looking at how a sugar-coated protein protects the body against type 1 diabetes has received a $60,000 boost from the Diabetes Australia Research Trust.
The study, led by Dr Esther Bandala Sanchez from the Walter and Eliza Hall Institute, will investigate whether the protein CD52 could underpin a standardised screening test and preventative medication for type 1 diabetes, a lifelong condition affecting more than 120,000 people in Australia.
Dr Bandala Sanchez said the grant would build on previous research, which had demonstrated how certain immune cells, called regulator T cells, could help to protect the body against disease.
"We discovered how 'good' T cells deploy a sugar-coated protein or 'immune modulator' called CD52, which seeks out 'bad' T cells to suppress their function.
"Using its sweet, sticky exterior, CD52 is able to 'stick like toffee' to these disease-causing T cells, stopping them from causing harm," Dr Bandala Sanchez said.
The researchers realised that without the regulatory forces of CD52, the activity of 'bad' T cells would increase. This led to the depletion of insulin-producing beta cells in the pancreas. Because insulin helps to regulate glucose, the knock-on effect is poorly controlled blood glucose levels – a contributing factor for diabetes.
Dr Bandala Sanchez said the team's findings pointed to the potential of testing levels of CD52 as an indication of whether a person might be predisposed to type 1 diabetes.
 "We are now hoping to prove the findings from our previous study using 'pre-clinical' models in order to establish the therapeutic use of CD52 to prevent the development of diabetes," she said.
Dr Bandala Sanchez said her team would also be working towards developing synthetic CD52 as a potential therapeutic agent with the ability to switch off responses that could trigger autoimmune diseases like diabetes.
"We hope one day preventing type 1 diabetes will be as simple as taking regular tests and that CD52 could be used as a biomarker for a person's risk of developing this disease," Dr Bandala Sanchez said.
"Type 1 diabetes is a challenging disease because once symptoms present themselves, it is usually too late to do anything about it. There currently is no cure, instead there is the requirement for a lifelong management of the disease," she said.
CEO of Diabetes Australia Associate Professor Greg Johnson said the work being carried out by Dr Bandala Sanchez and her team was an example of how research could transform the lives of families across Australia.
"Type 1 diabetes is a condition that requires constant attention. It takes a huge toll, both on people with diabetes and their families, so developing a test and medicine that prevented people from developing the condition would be a huge advancement," Associate Professor Johnson said.
 "It is a long road but this research is a critical step down the road towards clinical trials in humans," he said.
Dr Bandala Sanchez's study is one of 14 research projects to receive grants across Victoria, announced by Diabetes Australia.
For more information:
Arunee Wilson
Media and Publications Advisor
P: +61 3 9345 2719
M: +61 475 751 811
E: wilson.a@wehi.edu.au