If it weren't for the generous actions of Eliza Hall just over a century ago, Australia's Walter and Eliza Hall Institute of Medical Research, an organisation of over 750 scientists tackling major diseases challenging humanity, would not exist.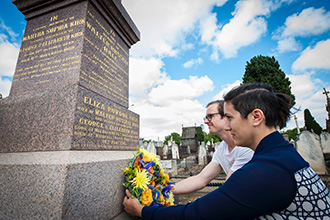 Today the institute commemorates the death of Eliza Hall whose foresight in establishing the Walter and Eliza Hall Trust in 1912, led to scientific breakthroughs at the Walter and Eliza Hall Institute that have improved the lives of tens of millions worldwide.
In establishing the trust, Eliza made the largest charitable gift in Australian history at the time – a figure equivalent to $116 million in today's terms. The trust would give wings to the Halls' community-minded legacy for generations to come.
Walter and Eliza Hall Institute director Professor Doug Hilton said Walter and Eliza were a power couple of their time with a special compassion for others.
"Walter and Eliza Hall were a team and both particularly active in the area of philanthropy," Professor Hilton said. "They had no children and went to great lengths to care for their extended family and community. When Walter died, Eliza set up the trust to continue the work they were passionate about."
At the heart of the Walter and Eliza Hall Trust is the desire to relieve human suffering. In meeting this purpose, the trust established The Walter and Eliza Hall Institute of Medical Research. A century on, Australia's oldest medical research institute continues to alleviate suffering and save lives.
The trust's continued support of the institute has totalled more than $10 million and has enabled investment in the latest technology and necessary resources to advance vital research in the areas of cancer; infectious diseases such as hepatitis B, HIV and malaria; and immune disorders such as rheumatoid arthritis and multiple sclerosis.
In the spirit of the Halls' belief in education, the institute has nurtured many young scientists. With more than 150 medical research students each year, the institute is a hub for the best and brightest to work at solving the biggest challenges in human health for Australia and around the world.
Professor Doug Hilton said the Walter and Eliza Hall Trust was indelibly linked with the institute.
"We're incredibly lucky to have the support of the trust. On this day we feel particularly proud to acknowledge our relationship with the trust and celebrate the life of Eliza Hall: a true pioneer of Australian philanthropy. The institute will be forever grateful for her foresight," he said.
Eliza Hall died from cancer on 14 February 1916. She is buried beside Walter Hall at the Melbourne General Cemetery, not far from the institute that bears her name.
Arunee Wilson
Media and Publications Advisor
P: +61 3 9345 2719
M: +61 478 714 757
E: wilson.a@wehi.edu.au