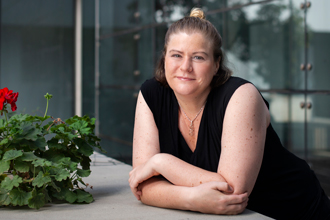 Dr Sarah Stephenson has been featured in the OUTstanding LGBT+ Future Leaders Role Model List 2020.
Sarah was recognised for her outstanding achievements in championing LGBTQIA+ people in STEMM (Science, Technology, Engineering, Mathematics and Medicine).
Sarah is co-founding director of QueersInScience, an initiative to increase the visibility and representation of LGBTQIA+ people in STEMM. QueersInScience has been proudly hosted and supported by WEHI since 2018.
The OUTstanding LGBT+ Future Leaders Role Model List 2020 is an initiative of INvolve, a global network and consultancy championing diversity and inclusion in business.
Championing diversity and inclusion
Sarah co-founded QueersInScience in June 2018 and, under her stewardship, it has grown from a grassroots Victorian medical research precinct initiative to a national movement, with established chapters in all Australian states.
As director of QueersInScience, Sarah liaises with executive champions to highlight the challenges facing the LGBTQIA+ community in STEMM and the steps necessary to create a more inclusive sector. In addition to her role in QueersInScience, Sarah is team leader of the Neurogenetics group at the Murdoch Children's Research Institute and holds an honorary position at WEHI.
QueersInScience has grown nationally with Sarah's guidance, and has established chapters in all Australian states, meeting regularly to promote continuity and a national focus of LGBT+ inclusion. QueersInScience organised Australia's first LGBTQIA+ STEMM symposium in July 2019 attended by more than 200 guests and featuring talks from leading Australian scientists who identify as members of the LGBTQIA+ community.
Sarah said the recognition reflected the hard work and dedication of the entire QueersInScience team.
"QueersInScience aims to powerfully transform inclusion of LGBTIQA+ people within STEMM by increasing support, enabling education, ending harassment and discrimination and empowering professionals, students and organisations," Sarah said.
"It is always lovely to be recognised for the work that we do. I am continually impressed by the talent, creativity and drive of our team to create a better environment. This award is an opportunity to raise the profile of QueersInScience and hopefully create new conversations and networks to progress LGBTQIA+ STEMM inclusion."
The importance of representation
In addition to her leadership role in QueersInScience, Sarah is also a mentor to the Pinnacle Foundation, supporting LGBT+ young adults to reach their full potential. She also led a 2017 scientific literature review by a team of child and adolescent health experts to correct misinformation about the impact of same-sex marriage, with a report published in The Medical Journal of Australia.
In a statement announcing the awards, Suki Sandhu OBE, Founder and CEO of INvolve said he was thrilled to be celebrating another amazing group of LGBT+ and ally role models from across the globe who were championing inclusion and inspiring the next generation of talent.
"LGBT+ discrimination is still prevalent across the world and role models are essential to change perceptions and show everyone that you can be successful in business, while also being your authentic self at work," he said.
Learn more about QueersInScience and WE-Pride, WEHI's LGBTQIA+ and ally network.
Media enquiries
E: communityrelations@wehi.edu.au M: +61 475 751 811