WEHI researcher and clinician Professor Clare Scott has been recognised in the 2022 Queen's Birthday Honours List, with one of Australia's highest civilian honours.
At a glance
Professor Clare Scott appointed a Member of the Order of Australia (AM).
Honour recognises over 25 years of dedication and achievement in researching rare cancers.
Current research focus aims to shift the treatment paradigm for ovarian cancer from "one-size-fits-all" to a personalised approach.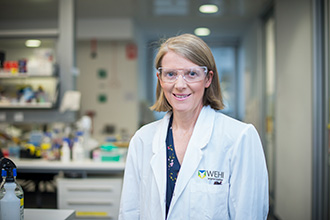 Professor Scott, who has spent over 25 years researching rare cancers, has been appointed a Member of the Order of Australia (AM) for significant service to gynaecological oncology.
"This is such an honour – reminding me what we can achieve together as a community, if we prioritise science, medicine and education, as well as sport and culture," she said.
"The recognition reflects decades of teamwork from my colleagues, including talented consumers, and I am very grateful for their on-going collaboration."
Professor Scott is Joint Head of the Clinical Translation Centre and Laboratory Head at WEHI. Her research focuses on preventing drug resistance to cancer therapies and developing targeted therapies for ovarian and other rare gynaecological cancers.
She aims to shift the current treatment paradigm from a "one-size-fits-all" approach to a personalised approach, where treatments are targeted to the specific cancer type of each patient.
Professor Scott, who also practices as a medical oncologist at the Peter MacCallum Cancer Centre, the Royal Melbourne Hospital and the Royal Women's Hospital, and is Professor of Gynaecological Cancer at the University of Melbourne, is reminded every day about what inspires her to do cancer research.
"My team works closely with women facing the challenges of gynaecological cancers, their families and friends, as well as expert consumers who can reflect the ideas of the community," she said.
"This deep connection enables us to weave innovation in research ideas, technology and care delivery platforms into the clinic as fast as is safely possible.
"This, after all, is what I think the community expects us to do, with such a scourge, as many cancers undoubtedly are."
The recognition is the latest achievement in Professor Scott's stellar career, with previous honours including the Jeanne Ferris Recognition Award (2018, Cancer Australia) and the 100 Women of Influence Award (2013, Fairfax Media and Westpac Group.
Her fellowships have included the Victorian Cancer Agency Clinical Research Fellowship, (2017-2019) the Sir Edward Dunlop Cancer Research Fellow (2012-2016) and the Cory Leadership Fellowship, WEHI (2010-2014).
Professor Scott was also recently elected Chair of the Australia New Zealand Gynaecological Oncology Group (ANZGOG).