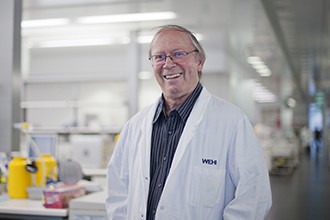 Professor Adams was the only Australian researcher to be selected as a fellow in 2014. The academy will welcome 38 new fellows at the AACR annual meeting in San Diego, US, on Friday 4 April 2014.
Professor Adams was elected in recognition of his outstanding contributions to understanding the genes that provoke cancer and control cell death.
Professor Adams, joint head of the institute's Molecular Genetics of Cancer division, began his research into cancer-causing genes in the early 1980s, focusing on the role of genetic errors in triggering leukaemias and lymphomas. He and his colleagues showed a common blood cancer called Burkitt's lymphoma was often caused by genetic errors that damaged the 'switch' that controlled a gene called Myc, driving the cells to multiply uncontrollably and become cancerous.
Professor Adams has also made seminal contributions to discovering the proteins involved in normal cell survival and cell death, and establishing their roles in cancer development. His research with institute colleagues has implicated these proteins as key drivers of cancer and revealed their role in cancer drug resistance. The discoveries have also galvanised development of new anti-cancer drugs, currently in clinical trials, which directly inhibit cell survival proteins, causing cancer cells to die. These drugs may also be applicable to certain other diseases, as cell survival proteins also contribute to immune disorders such as lupus and rheumatoid arthritis.
Professor Adams said he was thrilled to be elected to the AACR academy. "I am grateful that our achievements have been recognised by our peers in cancer research," Professor Adams said. "The research into cell death being carried out at the institute, in collaboration with talented institute colleagues, has provided promising leads in understanding how cancer develops and how we can better treat it. I am humbled to be acknowledged for my role in pursuing this research."
Institute director Professor Doug Hilton said cancer research was one of the institute's strengths and that it was pleasing Professor Adams was being recognised for his efforts. "Our cancer research is among the best in the world," Professor Hilton said. "Jerry's admission to the AACR academy is testament to the calibre of his contribution to understanding how cancer develops."
The AACR Academy was created in 2013 to recognise and honour distinguished scientists whose major scientific contributions have propelled significant innovation and progress against cancer. The inaugural class of fellows, inducted in 2013, included institute researchers Professor Suzanne Cory and Professor Donald Metcalf.
More information:
Alan Gill
Science Communications Officer
P: +61 3 9345 2719
E: gill.a@wehi.edu.au