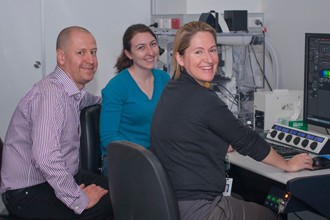 Funding from the Walter and Eliza Hall Institute's founding donor, the Walter and Eliza Hall Trust, has allowed the institute to purchase a $500,000 microscope that will aid research into significant global diseases.
The funding continues the almost 100-year relationship between the Walter and Eliza Hall Trust and the Walter and Eliza Hall Institute as the two organisations seek to end human suffering.
The Walter and Eliza Hall Trust was founded in 1912 by Mrs Eliza Hall, widow of businessman Mr Walter Hall, to benefit the community through the alleviation of poverty and suffering. In meeting this purpose, the trust established the Walter and Eliza Hall Institute of Medical Research almost a century ago.
The trust has continued to support the institute, and this year has significantly boosted its contribution through the purchase of the $500,000 confocal microscope as well as a FACS machine and by supporting a research project into juvenile arthritis.
Institute director Professor Doug Hilton said he was delighted to be extending the historic relationship between the trust and the institute. "I believe our benefactors, Walter and Eliza Hall, would be absolutely delighted with the important and valuable work both our organisations have achieved over the past century," he said. "I look forward to ongoing strong links with the trust to advance research that improves the health of the Australian and global communities."
The confocal microscope will advance the research of more than 80 scientists at the institute, allowing them to collect multiple images of biological samples that can then be rendered into a three-dimensional representation of the specimen being examined. Dr Kelly Rogers, head of the institute's imaging facility, said microscopy provided an invaluable window into the function of cells in health and disease.
"The support provided by the Walter and Eliza Hall Trust will enable our scientists to use the most up-to-date technology to conduct their experiments in diverse fields of medical research," Dr Rogers said. "The new microscope has the capacity to increase the speed and precision of analysis of biological samples, shortening the timeframe our researchers need to make discoveries."
The Walter and Eliza Hall Trust has also provided funding to Inflammation division researcher Dr Seth Masters for him to develop new ways to treat the disabling childhood disease systemic-onset juvenile idiopathic arthritis (SJIA).
Dr Masters said although there were several treatments currently available for SJIA there was great variability in how children with the condition responded to each treatment. "SJIA is a crippling lifelong disease for young children," he said. "We are working to develop a way to use genetic information from children with SJIA to predict which treatment will work best for each child, to reduce the suffering and damage caused by this condition.
"This basic research about which genes match to specific therapies could also tell us more about the pathways that underlie this condition, and also other more common, disabling, inflammatory conditions," Dr Masters said.
Ms Helen Cook, secretary of the Walter and Eliza Hall Trust, said the trust was very proud of the achievements of the institute. "We are delighted that we are in a position where we are able to continue to provide financial support toward the vital research work undertaken at the institute," she said. "The main purpose of the trust is to provide financial assistance to those in our community who are financially and physically disadvantaged. In providing funds for the purchase of equipment used for medical research we hope that the causes and cures for diseases which result in physical disability may one day be discovered."
Further information:
Vanessa Solomon
Communications Adviser
P: +61 3 935 2971
M: +61 431 766 715
E: solomon@wehi.edu.au