On Monday 18 May the Walter and Eliza Hall Institute recognised the 100th anniversary of the death of Australian doctor and scientist Dr Gordon Clunes McKay Mathison, who died in the battle of Gallipoli in World War I.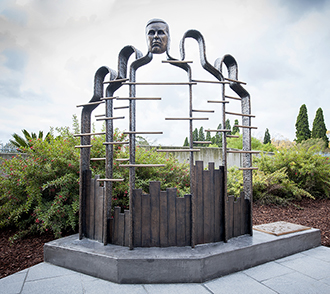 The institute unveiled a sculpture titled Irreparable loss of potential, commissioned by the Dyson Bequest and created by internationally awarded Melbourne sculptor Mr Michael Meszaros, to commemorate Mathison.
Dr Mathison was to be the inaugural director of the Walter and Eliza Hall Institute, but was killed in the battle of Gallipoli at age 31, before he could take up his position.
There is no doubt that Australia lost a great talent with the death of Mathison. He was considered a bright and brilliant talent destined for greatness before he was struck by an errant Turkish bullet and died of his injuries in Egypt. Mathison's friend and former teacher Professor W.A. Osborne called him "a rare genius, a gift of the gods".
Institute director Professor Doug Hilton said that it was important for the institute to remember its inaugural director. "The institute's history highlights the ramifications of just one of the 61,000 Australians who lost their lives in World War I," Professor Hilton said.
"We will never know what discoveries Mathison might have made had he lived to take up his role as first director of the institute. For me personally, reflecting upon Mathison's story and the institute's history has reminded me of how important it is to ensure our talented young people have every opportunity to realise their potential."
Dyson Bequest trustee Mr John Dyson said Dr Mathison had achieved much in his short life, but his untimely death meant he was unable to fully realise his huge potential. "Despite his impressive achievements, there is little public knowledge of Dr Clunes Mathison, his achievements and his sacrifice," Mr Dyson said.
"The Dyson Bequest is thankful for the opportunity to commission Michael Meszaros to create a sculpture that commemorates the life of Dr Clunes Mathison. We hope that our gift will in part serve to remind the public of his contribution to medical research and the lost potential suffered as a result of his death and the deaths of many other young men and women who paid the ultimate sacrifice.
"We also hope that the sculpture will inspire future generations of medical researchers."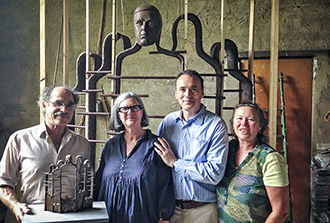 Mr Meszaros said the sculpture was one of his most challenging commissions because it needed to eloquently express something that had not happened.
"The design of this piece addresses the notion of a human vacancy, partially filled with achievement but with a void above this within the human space," Mr Meszaros said. "This space suggests the unfulfilled potential of each figure. Mathison's stature as a brilliant scientist cut off from a full career makes him an unfortunate leader. The other figures remain anonymous as symbols of the many talented people who were not able to fulfill their potential."
Dr Ross McMullin, historian and author of the book Farewell, dear people: biographies of Australia's lost generation, which documents the loss of talented people in World War I, presented a tribute lecture to Dr Mathison prior to the unveiling of the statue.
He said Mathison wanted to make scientific discoveries that would help sick people get better. "Such an extraordinary Australian as Clunes Mathison should be much better known than he is, and it is splendid that this state of affairs will be rectified by Michael Meszaros' commemorative sculpture," Dr McMullin said.
Further information
Liz Williams
Media and Publications Manager
M: + 61 428 034 089
P: +61 3 9345 2928
E: williams@wehi.edu.au