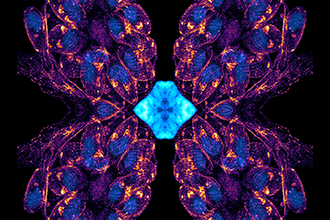 WEHI scientists have embraced their artistic sides in the 2021 Art of Science competition.
The annual exhibition showcases mesmerising artworks created by WEHI medical researchers who are seeking answers to some of the world's most complex health problems, including cancers, immune disorders and infectious diseases, and healthy ageing and development.
The 25 still and moving images are the finalists from the 2021 WEHI Art of Science competition, judged by Gorman creative director and founder, Lisa Gorman.
In a true collaboration between art and science, the exhibition will be accompanied by a recording of Vivaldi's The Four Seasons, performed by the Melbourne Symphony Orchestra (MSO).
At a glance
WEHI's online Art of Science exhibition features an online gallery of 25 amazing still and moving images created by WEHI researchers, using our state-of-the-art imaging facilities.
The free online exhibition features a performance of The Four Seasons by Vivaldi by The Melbourne Symphony Orchestra
Fashion designer Lisa Gorman was this year's guest judge, however visitors to the exhibition can vote for their favourite in The People's Choice Awards
Healthy competition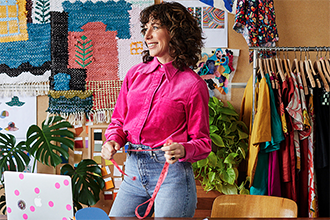 WEHI has been running the Art of Science competition for more than two decades, highlighting the beauty behind medical research, and created by researchers using WEHI's state-of-the-art imaging facilities.
Each year, a guest judge is invited to select their favourite still and moving images.
Having spent her early career working as a nurse at The Royal Melbourne Hospital, Lisa brought her passion for science and flair for design to the task of judging.
"I'm very excited to be judging the Art of Science competition this year," she said.

"I've had a longstanding fascination with human biology since my high school days, which led me to complete a nursing degree and then to work at The Royal Melbourne Hospital in the 1990s. There were so many magnificent, interesting, and alluring works to choose from."
A true collaboration of art and science
MSO Managing Director Sophie Galaise said it was wonderful to be able to combine the creative talents of two of Melbourne's most esteemed institutions.
"We are delighted to be involved in this unique exhibition," she said.
"The pandemic has led to unexpected collaborations and innovative ways for the MSO to share our music and what could be more appropriate for a Melbourne centric exhibition than The Four Seasons?"
WEHI Director and 2020 Melbournian of the Year Professor Doug Hilton AO said that working with Lisa Gorman and the MSO aligned the best of Melbourne: biomedical research, fashion and the arts.
"It feels like a perfect fit; it tells the story of why our researchers are working so hard, making discoveries for cancer, immune and infectious diseases – including COVID, and healthy ageing," he said.
"It's wonderful to be able to collaborate in this way and, by holding the gallery online this year, we hope more people will be able to enjoy the exhibition."
Visitors to the online exhibition are invited to vote for their favourite in the People's Choice Awards.
View the exhibition at www.wehi.edu.au/artofscience
Media inquiries
M: +61 475 751 811
E: communityrelations@wehi.edu.au