Australia's first childcare centre built and owned by an independent medical research institute and established on-site for its staff and students will be celebrated today in Melbourne.
Victorian Minister for Early Childhood Education the Hon. Jenny Mikakos officially launched the Professor Lynn Corcoran Early Learning Centre at Melbourne's WEHI, a landmark achievement for the medical research sector and for gender equity in science.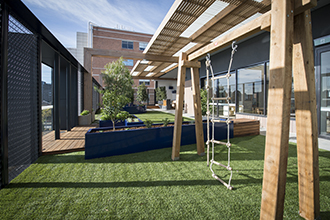 The $9.9 million centre will enable WEHI families to access quality childcare that is reliable, affordable and convenient. It is an important pillar of the WEHI's commitment to gender equity and overcoming gender imbalance at senior levels by addressing the barriers and challenges facing female scientists.
A win for gender equity
WEHI director Professor Doug Hilton said the childcare centre was a proud achievement for the institute and the sector.
"Creating a working environment that enables all parents – men and women – to equally and successfully balance their carer and professional responsibilities is essential for a contemporary organisation," he said.
"This facility enables families to access quality education and care for their young children so both parents can flourish personally and professionally. By supporting men to take on a more active carer role, we can also begin to address the challenges that hinder career progression – particularly for women with carer responsibilities – in our sector.
"I am very pleased that this was a shared project – initiated by our staff and students, advocated for by our leadership and supported by our donors, the Victorian Government and the WEHI board. The centre will help us to foster a healthy, productive and creative workplace, and ultimately lead to more discoveries that improve health outcomes in Australia and globally," Professor Hilton said.
The centre was established with $3 million in philanthropic support and a $650,000 Victorian Government Children's Facilities Capital Program grant, with the remaining money provided by WEHI.
Ms Mikakos said the Labor Government was proud to support the project. "This unique and innovative centre will no doubt make the work-life balance easier for parents at WEHI as they continue their crucial work," Ms Mikakos said.
The centre is named in honour of gender equity champion Professor Lynn Corcoran, a senior WEHI scientist who had devoted much of her career to supporting and mentoring young women in medical research. She was instrumental in the establishment of the childcare facility.
She said the centre addressed a major unmet need in the medical research community. "One of the difficulties confronting women in medical research is that the transition period from postdoctoral scientist to independent laboratory head and other senior roles often corresponds with the early years of raising children, creating a strong potential for career disruption," Professor Corcoran said.
"WEHI established a range of initiatives to help women continue to advance their careers, however access to quality childcare continued to be identified as a major obstacle to career development.
"The centre will make a major contribution to helping achieve gender equity at WEHI and we are proud to be leading the Australian medical research sector with this initiative."
About the centre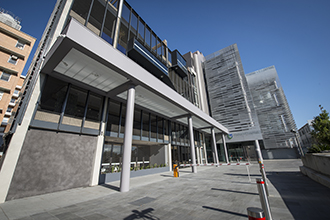 The Professor Lynn Corcoran Early Learning Centre was designed by Perkins Architects and built by Kane Constructions. It provides a cutting-edge example of an inner-city service integrated over multiple levels. Integrated over five levels, the Parkville-based centre will offer 100 places for children aged three months to six years, including long day care, three- and four-year-old kindergarten.
The centre will be operated by FROEBEL Australia, a not-for-profit provider of quality early education and care services and is expected to open in July 2018, subject to regulatory approval. FROEBEL will offer a unique bilingual early learning approach, child-led, inquiry-based learning programs and pioneer a STEM-based learning program called 'Little Scientists'.
The Young family, a Koorie family from Victoria, has been working with WEHI and the centre operator to integrate recognition of Indigenous history and culture into the centre and its curriculum. "We are honoured that the Young family strongly contributed to the internal design concept for our new early learning centre, providing a holistic and meaningful integration of Aboriginal culture and history into this new part of WEHI," Professor Hilton said.
Media enquiries
M: +61 475 751 811
E: communityrelations@wehi.edu.au