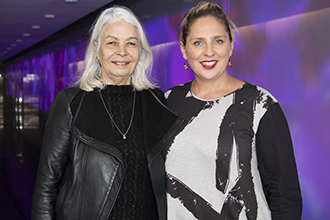 The Institute was honoured to welcome influential Aboriginal academic Professor Marcia Langton AM to deliver our inaugural International Women's Day address.
Professor Langton is a highly respected public intellectual, and since 2000 has held the Foundation Chair of Australian Indigenous Studies at the University of Melbourne.
Speaking to a full auditorium of Institute staff and students, Professor Langton discussed the status of Aboriginal and Torres Strait Islander women in Australia.
As a strong advocate for ending violence and discrimination against Aboriginal women, Professor Langton shared a comprehensive overview of her research in this area. She highlighted confronting statistics on the rising incidences of domestic violence and incarceration among the Indigenous population, with a focus on the experiences of women.
"Violence against Indigenous women ranges from between 34 times the national figures to up to 80 times in the worst areas," Professor Langton said.
Professor Langton also discussed the need for all Australians to play an active role in 'closing the gap'. "It is vitally important we listen to the voices of victims, have courageous conversations and keep informed of the facts in order to accurately understand the status of Aboriginal and Torres Strait Islander women in Australia," she said.
Towards greater diversity and inclusion
The Institute's deputy director of strategy and operations Ms Samantha Ludolf said the Institute was committed to embedding and expanding activities to promote diversity and inclusion, and to using its voice to affect societal change.
"Recent examples of our commitment include a submission to the Joint Select Committee Inquiry into Constitutional Recognition Relating to Aboriginal and Torres Strait Islander Peoples in support of a First Nations voice to parliament, and a public statement in support of marriage equality in a free, fair and equal society," she said.
In 2017 the Institute introduced a policy addressing domestic and family violence as a workplace issue. And in 2018 we welcomed Sally Goldner AM from Transgender Victoria for an event where staff and students came together to launch a policy to support trans and gender diverse people in the workplace.
Supporting gender equity in science
Institute director Professor Doug Hilton who is also a Male Champion of Change said the Institute was deeply committed to addressing barriers for women in science.
"Our initiatives include more than AUD $2 million to assist women scientists with childcare upon their return to the workplace; as well as the opening of a three storey on-site childcare centre, The Professor Lynn Corcoran Early Learning Centre, the first at an independent medical research institute in Australia.
"In 2018, the Institute was one of only 15 higher education and research institutions nationally to receive a SAGE Athena SWAN award for our work on gender equity."
Professor Hilton said the work in these important was set to continue. "Our next steps include initiatives to dismantle the barriers resulting from the accumulative disadvantage faced by minority women, as well as a focus on role modelling and celebrating these women's achievements," he said.
Media inquiries
M: +61 475 751 811
E: communityrelations@wehi.edu.au