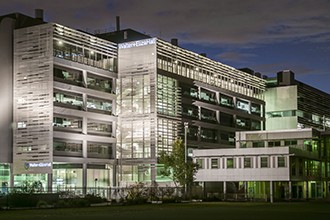 The Walter and Eliza Hall Institute has won the Committee for Melbourne's 2014 Melbourne Achiever Award for its contributions to the city's global reputation in health and medical research.
Committee for Melbourne's Chief Executive Officer Ms Kate Roffey said throughout its 99-year history the institute had excelled at establishing Melbourne's global health reputation. "We are incredibly proud to award this year's Melbourne Achiever Award to the Walter and Eliza Hall Institute for the outstanding contribution it has made to Melbourne," Ms Roffey said.
The Committee for Melbourne cited the institute as a 'cornerstone of Melbourne's internationally renowned medical research sector', and playing a 'vital role in Melbourne's future positioning as a centre for research and bio-medicine'.
Institute director Professor Doug Hilton accepted the award at an annual gala dinner held at the State Theatre last night.
Professor Hilton said he was honoured to accept the award on behalf of the institute's staff and students.
"The Walter and Eliza Hall Institute has been based in Melbourne since it was founded nearly 100 years ago, and we are proud to have played a role in establishing Melbourne as the premier Australian biotechnology and medical research hub," Professor Hilton said.
"The institute's scientists are committed to research that improves lives. The discoveries and scientific leadership made by our researchers, past and present, have had a real impact on people in Melbourne and worldwide."
The Committee for Melbourne is a not-for-profit organisation uniting leaders and organisations to enhance Melbourne's future. The Melbourne Achiever Award is awarded to an individual or organisation that has made a significant and sustained contribution that will have a long-lasting legacy for Melbourne.
More information:
Liz Williams
Media and Publications Manager
T: 03 9345 2928
M: 0428 034 089
E: williams@wehi.edu.au