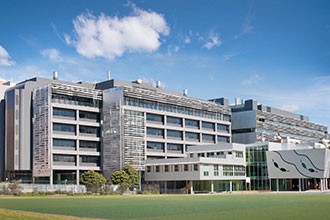 Australia's oldest medical research institute, the Walter and Eliza Hall Institute, will today unveil its new state-of-the-art $185 million research facility, expanding its capacity to deliver life-saving research.
The facility will be opened at 12pm by the Premier of Victoria, Mr Ted Baillieu; the Federal Parliamentary Secretary for Health and Ageing, Ms Catherine King; Walter and Eliza Hall Institute staff; and several cancer survivors who have benefitted from an institute discovery made 25 years ago.
The redevelopment of the Melbourne-based building includes a number of Australian-first research services across seven new levels of laboratories and scientific support services. This includes a new personalised medicine research centre, volunteer blood donor registry, insectary for breeding malaria-carrying mosquitoes, and a clinical translation centre.
The institute's floor space has more than doubled and an additional 270 researchers have been employed since the upgrade started in 2008. A further 200 staff and students are now being recruited. The $185 million redevelopment was funded through major contributions from the Victorian and Australian governments, The Atlantic Philanthropies, and a number of philanthropic organisations and individuals.
One of the features of the new building is the Ian Potter Centre for Genomics and Personalised Medicine, Australia's first research centre devoted to matching disease treatments to a person's genetic makeup. Institute director Professor Doug Hilton said the centre aimed to study disease so that treatments could be tailored specifically to individuals. Using new genomic and proteomic sequencing technologies, the centre aims to customise treatments for people with immune disorders and cancers. "Personalised medicine is the future of medical treatment," Professor Hilton said. "One of our key focuses is to deliver discoveries that improve lives here in Australia and globally. We are delighted to have the first facility in Australia dedicated to personalised medicine," Professor Hilton said.
The institute's emphasis on making discoveries that directly improve people's lives will be celebrated at today's launch with a special event where one of the institute's most celebrated researchers, Professor Don Metcalf, will meet 60 patients who have benefited from his most famous discovery.
More than 10 million people globally have benefited from Professor Metcalf's discovery of hormones called colony stimulating factors (CSFs). CSFs are used to increase dangerously low white blood cell levels in cancer patients undergoing chemotherapy to help them fight infection, and are also used to collect blood stem cells for bone marrow transplants.
Continuing the institute's tradition of developing discoveries into new treatments, the revamped building includes a new Clinical Translation Centre designed to make it easier for clinicians to train or work in the translation of research. The centre will help the institute improve patient outcomes by expediting the development of research discoveries into new treatments. Through a new walkover into The Royal Melbourne Hospital, the centre is easily accessible to clinicians and clinician-scientists from hospitals and other research organisations.
"One of the skills needed by modern research scientists is to understand what it takes to convert a scientific discovery into a viable medicine," Professor Hilton said. "We hope this new research facility will not only see us continue to unearth new scientific discoveries, but help more people benefit from our work."
International, federal and state medical and government industry dignitaries will attend today's launch, which will include a 10 metre 'kabuki' drop, which will unveil the Melbourne-based building. Other new features of the Walter and Eliza Hall Institute facility include:
An insectary – allowing scientists to study thousands of malaria-infected mosquitos for increased understanding of the liver stage of this devastating disease.
A volunteer blood donor registry that can take blood from any person, including people normally excluded from giving blood, such as those who have had potential exposure to mad cow disease, to be used for research into cancer, heart disease and brain diseases. This is another first in Australia.
A swift, personalised system to assist breast cancer treatment with the Australian Centre for Translational Breast Cancer Research.
Further information:
Penny Fannin Strategic Communications and Marketing Manager P: +61 3 9345 2345 M:  +61 417 125 700 E: fannin@wehi.edu.au