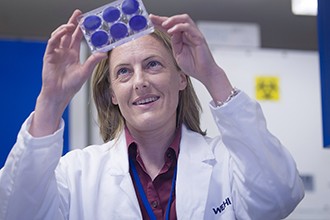 The fellowships are awarded annually to the highest ranked female applicant in each of the biomedical, clinical and public health pillars of the NHMRC research fellowship scheme.
Associate Professor Belz has spent the past 10 years studying how immune cells are controlled at a molecular level. Her research focuses on the 'adaptive' immune system – composed of T cells and B cells – that is highly specialised to detect and 'remember' foreign invaders.
Associate Professor Belz said she would use the fellowship funding to unravel the complex workings of the immune system.
"The adaptive immune system is crucial for weathering the constant assaults we experience from bacteria and viruses on a daily basis, as well as for developing immunity from vaccinations and to prevent cancer," Associate Professor Belz said.
"Though we have a good understanding of the cells involved in this immune response, there is still a lot we don't know about how they develop from the 'naïve' stage where they are yet to encounter a foreign organism to the very highly specialised and fully developed cells that form the basis of our immunity to viruses and bacteria.
"My research aims to identify and unravel the handful of critical 'master regulator' genes that control the development of these T and B cells, using novel models we have developed, which we hope will help to improve our strategies for preventing and treating infectious diseases, or even boosting the immune response to cancers."
The Elizabeth Blackburn Fellowships were established in 2011 to promote and foster the career development of female researchers. The award is named after Australian-born scientist Professor Elizabeth Blackburn, who won the 2009 Nobel Prize in Physiology or Medicine.
Further information:
Liz Williams
Media and Publications Manager
P: +61 3 9345 2928
M: + 61 428 034 089
E: williams@wehi.edu.au