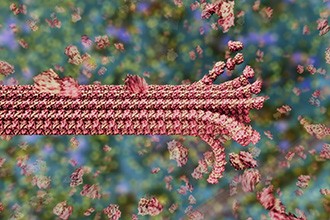 An innovative iBooks textbook series that will revolutionise how school students learn and engage with science on iPad was launched this week, featuring Australian-produced content from the Walter and Eliza Hall Institute.
The Life on Earth iBooks textbook features state-of-the-art media, animations, video and interactive modules to describe scientific concepts from the biology curriculum.
Life on Earth was inspired and led by Harvard naturalist and two-times Pulitzer Prize-winner Edward O. Wilson, and was a collaborative effort between the E.O. Wilson Biodiversity Foundation, Digizyme Inc and the Walter and Eliza Hall Institute.
The institute was the only Australian organisation involved in the project, a comprehensive 41-chapter text covering the secondary school biology curriculum that represents a new direction in science education.
Life on Earth gives students a rich, interactive experience, to visualise difficult concepts, understand underlying biological structures, and engage scientific materials in ways not possible with standard textbooks. The institute contributed high-level biomedical animations that are scientifically accurate and visually astounding.
Acclaimed biomedical animator Mr Drew Berry led the project at the institute, with animators Dr Charles Reilly and Ms Etsuko Uno. Mr Berry said the Life on Earth iBooks textbook was designed to excite and engage secondary school students.
"Life on Earth will radically change how high school students experience, engage and understand science, through cinematic animations and interactive models that explore the foundations of DNA and the genetic code, the evolution of disease such as malaria, and how the immune system in your body works" said Mr Berry.
"In contrast to the extraordinarily expensive printed textbooks from last century, Life on Earth will be a free resource on iPad. It is media rich, with three-dimensional animations that present the most fundamental biological concepts operating in real-time, video interviews with Nobel laureates, and interactive units that allow students to examine and investigate the evidence from science."
E.O. Wilson said he was immensely proud of the textbook. "Life on Earth comes alive on iPad, providing a stunning perspective on life," Dr Wilson said. "The interactive experience will ignite in students an appreciation for what they have inherited—this beautiful planet and every living thing on it—and an understanding of the role and responsibility we all have to preserve the biodiversity around us."
Life on Earth is accompanied by an iTunes U course that brings an added dimension to the classroom. iTunes U, the world's largest digital catalogue of free education content, gives learners access to course materials included in the Biology course. In addition to reading assignments, the course incorporates extension activities such as field observations, writing assignments, project-based learning exercises, and more, using apps and other materials. Important themes like citizen science, evolution, climate change and protecting biodiversity are emphasised in content brought together from leading institutions like the Smithsonian National Museum of Natural History, National Geographic, and the Encyclopedia of Life.
The first nine chapters of the iTunes U course are available from June 30 and the remaining materials for the 41-chapter course will be released throughout 2014. Free copies of the course will be made available for interested teachers with iTunes U accounts in late 2014.
Find out more about the Life on Earth textbook on iTunes.
Further information:
Liz Williams
Media and Publications Manager
P: +61 3 9345 2928
M: +428 034 089
E: williams@wehi.edu.au