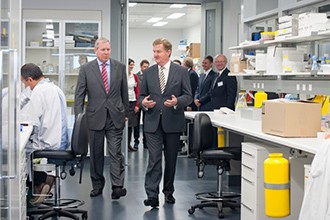 The Victorian Government has announced a new strategy to boost Victoria's international competitiveness in the health and medical research sector, launched yesterday at the Walter and Eliza Hall Institute.
Deputy Premier and Minister for State Development The Hon Peter Ryan MLA, and Minister for Health The Hon David Davis MLC jointly launched the strategy, called the Global Health Melbourne Plan.
The strategy outlines the Napthine government's plans to leverage Victoria's strength in health and medical research to generate export and investment opportunities, increase international engagement and secure Victoria's position as Australia's innovation capital.
Institute director Professor Doug Hilton said he welcomed the government's commitment to supporting Victorian innovation in medical and life sciences.
"Melbourne is internationally renowned as a hub for biomedical research and innovation," Professor Hilton said. "At the Walter and Eliza Hall Institute, we proactively seek international collaborations and partnerships to help us translate our research into life-changing treatments and health care for Victorians and people around the world.
"I'm happy to see the state government putting investment into building and supporting these activities in the sector, which not only provides Victorians with improved treatments and access to health care, but also benefits the economy through international investment and job creation."
At the launch, Mr Ryan said the government would invest $17.8 million over three years in support of the plan. The government would allocate the money to facilitate the Victorian health sector to expand into new markets in Asia, building on the strengths in medical research, biotechnology health services,
Medical research is one of the priority areas identified in the plan, highlighting Victoria's strengths in clinical trials, research partnerships and licensing of intellectual property.
Following the launch, Mr Ryan and Mr Davis met with three of the institute's researchers who are actively engaged in international collaborations. Institute leukaemia researcher Professor Andrew Roberts is working with international biotechnology partners to undertake clinical trials of new anti-cancer drugs while Dr Marie-Liesse and Dr Marc Pellegrini have also established international partnerships to progress early-stage research discoveries to new treatments for patients.
Further information:
Liz Williams
Media and Publications Manager
P: + 61 3 9345 2928
M: +61 428 034 089
E: williams@wehi.edu.au