WEHI's Dr Paola Favuzza has received an MTPConnect Researcher Exchange and Development within Industry (REDI) fellowship, that will provide her with the vital industry experience required to turn basic scientific research into positive outcomes for patients. 
At a glance 
WEHI Senior Research Officer Dr Paola Favuzza has been awarded a REDI fellowship that will arm her with translational skills and knowledge for the process of drug discovery.  
Dr Favuzza will undertake a one-year project at MMV in Switzerland to experience how research conducted within an organisation can progress to clinical trials and the therapeutic market. 
MTPConnect fosters relationships between researchers and industry to accelerate Australia's drug discovery potential. MMV aims to reduce the burden of malaria in disease-endemic countries by developing and delivering effective antimalarial drugs.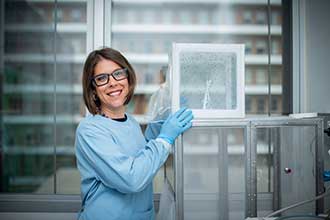 Dr Favuzza, a malaria researcher with more than 10 years of experience, will undertake a 12-month project with Medicines for Malaria Venture (MMV) in Switzerland, a leading product development partnership working to reduce the health burden of malaria worldwide.  
There, she will learn the skills needed to bridge the gap between basic research and clinical trials, including drug research and development knowledge, while also strengthening relationships between academia and industry. 
Dr Favuzza will return to WEHI at the program's conclusion to apply her learnings to the Institute's malaria and other drug development programs, with the goal of creating solid partnerships between industries to boost Australia's drug discovery capabilities.  
The REDI initiative is delivered by MTPConnect for the Australian Government's Medical Research Future Fund and provides industry experiences and skills development for people in the medical, biomedical and pharmaceutical industries to address skills gaps in these sectors.  
Bridging a vital gap 
Work conducted by MMV and their partners has led to 19 new malaria drug targets being validated since 1999 and the launch of 11 new products, which have saved the lives of an estimated 2.7 million people.  
Working with the organisation, Dr Favuzza will directly learn the process that leads to drugs entering the market, from the point they are developed in the lab until they enter clinical trials. 
Dr Favuzza said the program will address this vital gap in skills and allow her to have a better understanding of drug discovery and development.  
"This fellowship is the perfect bridge between basic and applied research," she said. 
"While I have extensive laboratory knowledge, I have much to learn about the processes required to advance beyond the lab. This rare training opportunity will bridge the knowledge gap I currently have to enable me to contribute to improving Australia's drug discovery potential."   
While she will be overseeing how potential antimalarial drug targets can be progressed from a basic research concept, Dr Favuzza said she hopes the fellowship will provide her with skills that can be applied to a broader health context and other diseases. 
Impactful collaborations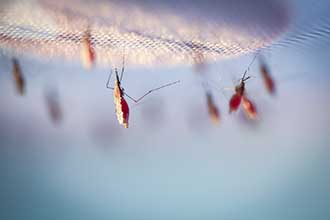 MMV is a current collaborator with WEHI and has provided critical advice for potential new antimalarial drug compounds that were developed through an extended drug discovery collaboration between WEHI and Janssen Pharmaceutica NV, where Dr Favuzza is a key researcher. 
WEHI director Professor Doug Hilton AO said the fellowship would strengthen this relationship and unite efforts to combat a disease that kills hundreds of thousands of people across the globe each year. 
"Collaborations like these are what enables institutes like ours to make meaningful discoveries," he said. 
"This program will not only fill a critical knowledge shortage in academic fields about how research can transform into something of commercial value, but will also allow Paola to bring what she learns in Switzerland back to WEHI and enhance our drug development potential." 
Dr Favuzza said she hopes the program will allow her to be at the forefront of drug development and approval in Australia.  
"Australia is a world leader in basic science, however we tend to lag when it comes to translational research," she said. 
"I am honoured by this opportunity that will enable me to better understand what is needed to develop drugs beyond the lab to improve health outcomes across the globe."  
---
Media enquiries 
M: +61 475 751 811 
E: communityrelations@wehi.edu.au