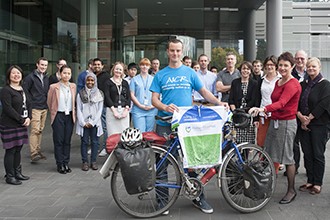 Australian cyclist Chris Gruar met staff and students at the institute while riding from the United Kingdom to Sydney raising money for cancer research.
Mr Gruar began his 40,000 kilometre journey from Leeds, UK, in March 2012 and has cycled through more than 40 countries en route to his hometown of Sydney, raising more than AUD$23,000 for the Association of International Cancer Research (AICR) in the process. A number of scientists from the institute are supported by AICR funding.
Institute staff and students, including members of the bicycle users group, welcomed Mr Gruar, presenting him with a Walter and Eliza Hall Institute cycling jersey and taking him on a tour of the institute's research facilities.
Dr Kate Sutherland and Dr Grant Dewson met Chris to tell him about their latest research findings and take him on a tour of their laboratories. Chris' fundraising is supporting their efforts to better understand how lung and blood cancers develop.
Lung cancer researcher Dr Sutherland, from the ACRF Stem Cells and Cancer division, is examining genetic defects found in different lung cancers to determine what impact they have on cancer growth, to help develop future treatments.
She said Chris' efforts to raise funds and awareness for cancer research was extremely valuable. "Chris' journey has increased the profile of AICR and generated much-needed funds for research projects such as mine," Dr Sutherland said. "Not only has he cycled all the way from England, he has put a considerable amount of time and effort into talking to everyday people about the importance of cancer research. Chris has done a remarkable job."
Dr Dewson, from the Cell Signalling and Cell Death division, said the AICR's funding was integral to his research. "Through our research into cell death we hope to identify new ways of treating cancers by reactivating normal cell death mechanisms, which are often 'switched off' in tumours," Dr Dewson said. "Developing new techniques to treat cancer takes a lot of time and effort so we really value the assistance of organisations such as AICR and passionate individuals who have as much enthusiasm as Chris for supporting cancer research."
Ms Susanne Williamson, head of Fundraising at the institute, said community fundraising was essential. "Our institute simply would not exist if not for the generous support of the wider community," Ms Williamson said. "The continued support we receive through fundraising efforts like Chris' and grants from charities such as AICR allow our scientists to keep making discoveries that help people across the world."
Mr Gruar said he chose to support AICR because cancer was a global concern requiring a global response. "I chose to raise money for AICR as a charity which funds ground-breaking cancer research throughout the world," he said. "You only live once, so I set out to see what one man on a bicycle could accomplish. I am now excited to return home to Australia and spread the word about the crucial projects being funded by AICR."
Chris arrived in Australia in February, starting in Darwin and riding through Alice Springs, Adelaide, Mt Gambier and western Victoria on the way to Melbourne. He will finish his ride in Sydney in early June.
Find out more about Chris' journey at his website, Cycling 4 Cancer.
Further information:
Alan Gill
Science Communications Officer
P: +61 3 9345 2719
E: gill.a@wehi.edu.au