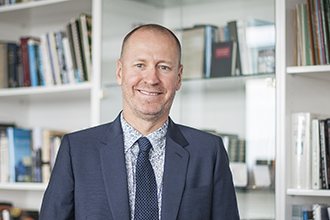 The award from The John Curtin School of Medical Research (JCSMR) at The Australian National University recognises Professor Hilton's research discoveries as well as his championing of gender equity in science and advocacy for public funding of medical research in Australia. The medal will be presented tonight at a ceremony in Canberra.
Professor Hilton, who became the Walter and Eliza Hall Institute's sixth director in 2009, and is the current president of the Association of Australian Medical Research Institutes, said he was honoured to receive the award. "For nearly 70 years JCSMR has produced world-leading medical research that has had global impacts," he said.
"As well as having a great professional respect for JCSMR, I also have a personal connection – it was in Professor Ian Young's lab, as a 19 year old undergraduate student, that I first discovered the amazing world of blood cells, a fascination that I still have more than three decades later."
The Walter and Eliza Hall Institute and JCSMR have many historic connections and shared alumni, including:
There are currently a number of productive collaborations between Walter and Eliza Hall Institute and JCSMR researchers, such as a study into the genetics of primary immunodeficiencies.
Previous recipients of the Curtin Prize have included Nobel Laureates Professor Elizabeth Blackburn, Professor Peter Doherty and Emeritus Professor Rolf Zinkernagel; Professor Samuel Gershon, who pioneered the use of lithium for the treatment of psychiatric conditions; Professor Ian Frazer, who developed the vaccine for human papilloma virus; and cancer researcher and former Walter and Eliza Hall Institute director Professor Suzanne Cory.
For further information
Vanessa Solomon
Communications Adviser
Ph: +61 3 9345 2971
Mob: +61 431 766 715
Email: solomon@wehi.edu.au