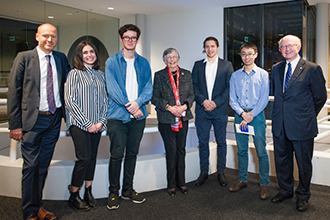 The exceptional science of 13 early-career researchers, supported by Walter and Eliza Hall Institute founding centenary donors, was recognised at the Institute's Annual General Meeting.
The recipients of the second round of Metcalf Scholarships were also announced. The Metcalf Scholarships, named in the honour of the late Professor Donald Metcalf, provide additional support to these promising young researchers who are studying at the Institute.
Centenary Fellows
Thanks to the support of our founding centenary donors, 13 early-career researchers will be able to dedicate the next five years to advancing their research into multiple sclerosis, pancreatic cancer, rare cancers, childhood leukaemia, and immune disorders.
Announcing the fellows, Institute director Professor Doug Hilton said without this philanthropic support, these young researchers would have faced an uncertain future.
"There is less than a one-in-seven chance of securing federal government funding," Professor Hilton said.
"Early career researchers, no matter how talented, have to compete against established researchers for limited resources and we are thrilled to be able to support this talent," he said.
The Institute's inaugural Centenary fellows and their supporters are:
Walter and Eliza Hall Trust supporting Dr Simon Willis
LEW Carty Charitable Fund supporting Dr Leigh Coultas
Alfred Felton Bequest supporting Dr Ian Majewski
CSL Limited supporting Dr Wei Shi and Dr Fanny Lafouresse
The Dyson Bequest supporting Dr Tracy Putoczki
Jane Hemstritch supporting Dr Belinda Lee
Malcolm Broomhead supporting Dr Marco Herold
Ormond College co-funding the Thwaites Gutch Centenary Fellow, Dr Alan Yu
University of Melbourne supporting Mathison Fellows, Dr Jason Tye-Din and Dr Maryam Rashidi
Metcalf scholars of 2016 announced
Professor Metcalf devoted his 60-year career at the Walter and Eliza Hall Institute to improving our understanding of blood cell development, which led to a treatment that has helped more than 20 million people with cancer by boosting their immune system after treatment.
Professor Hilton paid tribute to the legacy of Don Metcalf as he announced the 2016 Metcalf Scholarships.
"There is no better way to honour Don's memory than by encouraging the next generation of scientists," Professor Hilton said.
The recipients of the 2016 Metcalf Scholarships are Patrick Hennessy, Victor Shiyu Lin, Jordan Santucci and Kristen Scicluna.
For more information:
Ebru Yaman
Media and Publications Manager
M: 0428 034 089
E: ebru.yaman@wehi.edu.au