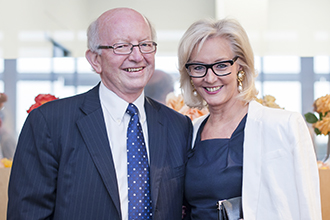 Mr Christopher Thomas AM has announced his retirement from the Institute's Board after six years of leadership as Board President, and almost two decades as a Board Member.
Mr Thomas is succeeded by Mrs Jane Hemstritch who will move from Vice President to be the Institute's 17th Board President. Current Board member Mr Terry Moran AC will become Vice President.
Long-lasting, positive impact
Mr Thomas joined the Institute Board in 2001 and was appointed Board President in 2013, bringing to the roles his extensive expertise in business management and governance.
Institute Director Professor Doug Hilton AO said Mr Thomas had provided steady guidance through major Institute milestones and achievements.
"As Board President Chris oversaw the Institute's 2015 centenary celebrations, including the launch of the Centenary Campaign which has supported 25 early-career researchers to date; the US$325 million sale of partial royalty rights for the anti-cancer drug venetoclax; the establishment of our on-site early learning centre; and the launch of the Institute's new National Drug Discovery Centre.
"Chris' legacy will be far-reaching thanks to his astute leadership during a comprehensive review of the Institute's science and professional services that has culminated in our newly approved 2019-2023 Strategic Plan," Professor Hilton said.
To recognise Mr Thomas and his wife Mrs Cheryl Thomas' important contribution to the Institute, Professor Hilton announced the Chris and Cheryl Thomas Leadership Award at the Institute's Annual General Meeting on 23 May 2019. The award will provide leadership development opportunities for emerging leaders at the Institute.
Vision for the future
Mr Thomas said it had been an enormous privilege to steer the Institute through an exciting period of growth in support of its mission to achieve excellence in research and translate discoveries into better health outcomes.
"I have thoroughly enjoyed working alongside the Institute's remarkable management and staff, as well as with our partners, The University of Melbourne and Melbourne Health.
"I welcome Jane to the position of Board President and wish her every success in the role. I know that under Jane's leadership, the Institute will be in very good hands," he said.
Mrs Hemstritch said she was honoured to be appointed President of the Board.
"I am looking forward to ensuring the Institute excels as a world-class medical research organisation with a strong reputation for performing highly influential basic and translational research. The Institute's mission to master disease through discovery is compelling and I will do everything in my power to see that we all, Board, management and staff, strive to deliver that mission," she said.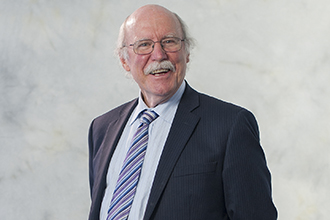 An exceptional contribution
The Institute would also like to acknowledge the contribution of Dr Graham Mitchell AO, an Institute alumnus who is retiring as a Board Member after more than a decade of exceptional service.
Dr Mitchell's contribution to the Institute and medical research extends back to the 1960s when, as an Institute PhD student, he co-discovered the key immune cell subsets, T and B cells. After postdoctoral experience abroad, Dr Mitchell returned to the Institute in 1973 and established a parasitology research program. In 1990 Dr Mitchell became Director of the Royal Melbourne Zoological Gardens, drawing on his qualification in veterinary science, and subsequently returned to biomedical research as Director of Research in the R&D Division of CSL Limited. Dr Mitchell was appointed an Officer in the Order of Australia for services to science in 1993.
Mr Thomas said he would like to thank Dr Mitchell for his commitment to the Institute's success over many years.
"In addition to being recognised as a highly respected scientist, Graham is celebrated for his guidance as a member of the Institute's Board to which he was appointed in 2007. As Chair of the Institute Board's Commercialisation Committee, Graham was particularly instrumental in helping to shape the commercial evolution of venetoclax. Graham has been an innovative and longstanding contributor to the Institute's success," Mr Thomas said.
These changes to the Board take effect from Friday 24 May 2019.
Media inquiries
M: +61 475 751 811
E: communityrelations@wehi.edu.au