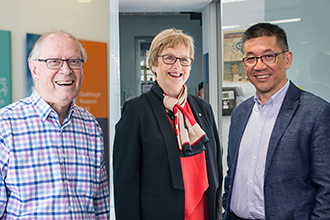 The honour recognises the three researchers' career contributions to molecular and cell biology and to cancer research, including revealing key molecules that control whether cells live or die. Importantly, their discoveries on regulation of cell death have laid the foundation for development of a new class of anti-cancer agents that is now advancing the treatment of certain blood cell cancers.
At a glance
Professors Jerry Adams, Suzanne Cory and David Huang have been elected to the Australian Academy of Health and Medical Sciences.
The appointments reflect the three researchers' individual contributions to research into apoptotic cell death, in particular for revealing how impaired cell death contributes to cancer development and resistance to therapy, and how new medicines targeting the cell death machinery can better treat cancer.
An immense impact on research
WEHI's director, Professor Doug Hilton AO, said the three researchers had made an immense impact on medical research over many decades.
"From discoveries about the fundamental biology of cells and cancer biology, through to playing key roles in the development of a new class of anti-cancer medicines, Jerry, Suzanne and David have overseen an impressive research portfolio," he said.
"Beyond that, at WEHI they have, collectively, mentored scores of researchers who have themselves gone on to make important contributions to medical research. All three held significant leadership roles within WEHI, including Suzanne's 13 years as director. Suzanne has also made important wider contributions to Australian medical research as President of the Australian Academy of Sciences."
Insights into cancer
Professor Adams and Professor Cory were pioneers of the application of molecular biology to solve questions in medical research in Australia, establishing these technologies at WEHI in the 1970s and making seminal discoveries about how immune B cells produce antibodies. This research led to the groundbreaking discovery of how a specific chromosome rearrangement drives the development of Burkitt's lymphomas, a cancer of B cells. Laboratory models developed through this research are still used around the world to study lymphoma development and treatment.
Understanding cell death
Professor Adams' and Professor Cory's research interests into how lymphoma develops led to the discovery in the late 1980s, in collaboration with Professor David Vaux AO, that a newly discovered cancer gene, BCL-2, prevents the apoptotic death of cells – and that high levels of this protein support the growth of cancer cells. Subsequent research by a team assembled by Professor Adams and Professor Cory – including Professor Huang – uncovered many of the molecular details of how apoptotic cell death is controlled by a suite of 'pro-survival' and 'pro-apoptosis' proteins related to BCL-2.
Professor Huang led research focussed on the interactions between the pro-survival and pro-apoptotic proteins, revealing that inhibiting pro-survival proteins could be a potential new approach to treating cancer. This led to a collaboration between the WEHI consortium and international industry partners which resulted in the development of a new class of medicines, the 'BH3-mimetic' drugs that inhibit pro-survival proteins like BCL-2, and clinical trials at hospitals in Melbourne played an important role in the clinical use of BH3-mimetic drugs as promising new anti-cancer agents.
In receiving the award, Professors Adams, Cory and Huang acknowledge the essential contributions of their many talented research collaborators, and the critical funding they have received from government and philanthropic sources.