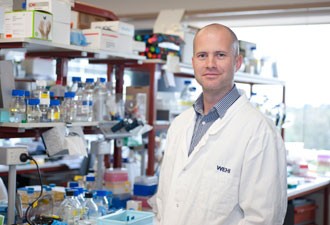 Walter and Eliza Hall Institute researcher Dr Benjamin Kile has been awarded the Australian Academy of Science's 2013 Gottschalk Medal for a series of major discoveries that have shed new light on blood cell formation and function.
The Gottschalk Medal, named in honour of biochemist Dr Alfred Gottschalk, recognises outstanding research in the medical sciences by researchers less than 40 years of age.
Dr Kile, a laboratory head in the institute's Cancer and Haematology division, said he was honoured to be awarded the Gottschalk Medal. "I love what I do, and it has been a privilege to be able to pursue a career in medical research in Australia," Dr Kile said. "This award is recognition for work that has involved literally dozens of colleagues and collaborators, here at the Walter and Eliza Hall Institute, nationally and internationally".
Dr Kile's work has centred on understanding the genes that are essential for the formation and function of blood cells and blood stem cells.
One of Dr Kile's best-known discoveries was that platelets, tiny cells essential for blood clotting, are born with a short, predetermined lifespan and when their biological clock runs out, they are programmed to commit suicide. This finding solved a 100-year-old mystery about platelet biology and has implications for blood transfusions and cancer treatment.
"Our research team showed platelets have an internal programmed cell death pathway that tells them when to die, rather than dying as a result of external factors," Dr Kile said. "This raises the prospect of extending the life span of blood bank platelets by inhibiting the cell death pathway; increasing the availability of this life-saving product for cancer patients and others in danger of serious bleeding," Dr Kile said. "It also has implications for understanding conditions where platelets cause unwanted blood clots, such as heart disease and stroke, which are two of the biggest killers in Australia today."
In 2008 Dr Kile and his colleagues also made the discovery that a gene called ERG, which is involved in prostate cancer and leukaemia, is a master regulator of blood stem cell function. Identifying the targets of ERG may ultimately lead to new cancer therapies.
"Everybody knew the Erg gene was highly oncogenic (cancer-causing) – it is one of the most commonly rearranged genes in human cancer – but we didn't know what its day job was," Dr Kile said.  "Our research showed that Erg is essential for maintaining and regulating blood stem cells, which underpin the body's blood and immune systems. This immediately suggested an explanation for Erg's profound oncogenicity; cancers acquire a lot of characteristics of stem cells, so the fact it is switched on in tumours suddenly made sense."
Institute director Professor Doug Hilton said Dr Kile's discoveries, while having basic biological significance, have also directly informed clinical practice, and have the potential to lead to new therapeutics.
"Ben has shown a willingness to pursue the translational implications of his work to a remarkable degree," Professor Hilton said. "He has already cemented his international standing as one of the brightest young stars of blood cell research, and his career trajectory remains resolutely upwards."
Previous winners of the Gottschalk Medal from the institute include Dr Gabrielle Belz (2008), Professor David Vaux (2000), Professor Doug Hilton (1998), Professor Alan Cowman (1993), Professor Nick Nicola (1986) and Professor Tony Burgess (1981).
Further information:
Penny Fannin
Strategic Communications and Marketing Manager
P: + 61 3 9345 2928
M: +61 417 125 700
E: fannin@wehi.edu.au