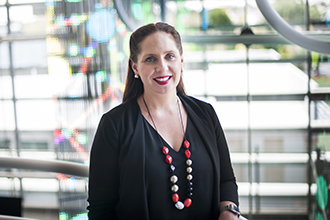 Dr Misty Jenkins from the Walter and Eliza Hall Institute has been named in this year's The Australian Financial Review and Westpac 100 Women of Influence Awards.
Dr Jenkins is a finalist in the Innovation category of the awards, which recognises her significant contribution to science and to gender equity.
The first member of her family to attend university, Dr Jenkins has carved out a name as one of the nation's most prominent researchers. She is head of her own laboratory at the Institute and is Deputy Chair of the National Centre of Indigenous Genomics.
Her research team investigates the biology of white blood cells called cytotoxic lymphocytes. These cells are the serial killers of the immune system, and their job to seek and destroy cancerous and virus-infected cells.
"We are studying the cell biology behind how killer lymphocytes acquire the ability to kill and detach from cancer cells," Dr Jenkins said.
Recent advances in cancer immunotherapy have aimed to recruit the immune system to fight cancer; this has shown great clinical promise.
With approaches to manipulate cytotoxic T cell function already underway in her laboratory, Dr Jenkins is on track to translate her research into a clinical setting.
"I'm thrilled to be named as a finalist," Dr Jenkins said.
"These awards honour the often-overlooked contribution to science, business and industry made by women and I hope they inspire a new generation of women to pursue their passion."
More information: 
Merrin Fabre
Ph: +61 3 9345 2185
Email: fabre.m@wehi.edu.au