WEHI president Jane Hemstritch has been recognised in this year's Australia Day honours, for distinguished service across the Australian non-profit and corporate sectors.
At a glance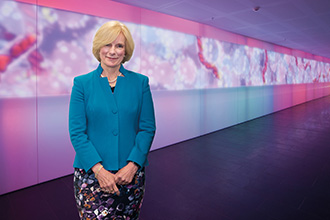 WEHI president Jane Hemstritch appointed an Officer of the Order of Australia (AO).
A passionate philanthropist and corporate leader, Mrs Hemstritch has supported the growth of a wide range of sectors for the benefit of all Australians.
Mrs Hemstritch has been appointed an Officer of the Order of Australia (AO) for outstanding contributions to Australian business, medical research, public resources and culture through professional service and philanthropy.
WEHI director, Professor Doug Hilton AO, said the honour was fitting recognition of Mrs Hemstritch's decades of dedicated leadership and service.
"Jane Hemstritch – through an extremely impactful corporate career and a dedication to philanthropy – has provided exemplary service to Australia," Professor Hilton said.
"Through her positions on the board and as president since 2019, Jane has led WEHI as we navigate the complexities of not only science, but of the financial, political and ethical landscape of the modern medical frontier.
"Jane has also been a passionate and generous supporter of pancreatic cancer research at WEHI, with her donations launching the Centenary Campaign for pancreatic cancer research, including a five-year Centenary Fellowship for an early career researcher.
"We are so grateful for all her contributions to WEHI, and I congratulate Jane on this well-deserved honour."
Mrs Hemstritch said she was humbled to join the many outstanding Australians recognised in the Honours List.
"To be recognised for making a positive contribution to the nation is such an honour," she said.
"Whether in business or philanthropy, I have been fortunate to have worked with so many inspiring people who are striving to innovate and make a difference.
"This appointment is a wonderful reflection of all these collaborations that have made such a great impact in our community."
Passionate philanthropist
Jane Hemstritch has been on the Board of Directors of WEHI since 2013 and president since 2019.
With extensive senior executive experience in accounting, information technology and change management, underpinned by broad expertise in the telecommunications, energy and finance sectors, Mrs Hemstritch has shaped some of Australia's highest-earning industries and companies, and was a key player in the expansion of Australian business interests into the Asia Pacific.
She was managing director Asia Pacific for Accenture Limited from 2004 until her retirement in February 2007. In this role, Mrs Hemstritch was a member of Accenture's global executive leadership team and oversaw the management of Accenture's business portfolio in the Asia Pacific.
Mrs Hemstritch has held numerous directorships, leading some of Australia's largest and most influential companies including the Commonwealth Bank of Australia, Lend Lease Corporation, Santos, Tabcorp Holdings and Telstra.
In addition to her corporate career, her commitment and service to organisations across medical research, public service, culture and the arts has supported the growth of a wide range of sectors for the benefit of all Australians.
Mrs Hemstritch is a member of the Council of Governing Members of The Smith Family and Chief Executive Women, and Chair of the Accenture Australia Foundation.
She was a Board Member and Chair of The Victorian Opera Company, Council Member and Deputy Chair of the National Library of Australia and a member of the Global Council of Herbert Smith Freehills.
A passionate philanthropist, Mrs Hemstritch has particular personal and professional interests in medical research and the support of sustainable communities.
Having completed a degree in biochemistry and physiology at the University of London, Mrs Hemstritch always respected scientific discovery. Her appreciation of the critical importance of medical research became deeply personal when her husband, Philip, died from pancreatic cancer in 2010.
Mrs Hemstritch became a dedicated donor, fundraiser and leader of medical research in Australia through deep involvement with WEHI and the Garvan Institute.
---
Media enquiries 
M: +61 475 751 811
E: communications@wehi.edu.au