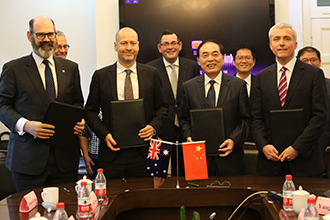 Victorian Premier Daniel Andrews has announced plans to establish a translational research centre in Nanjing, following the signing of a memorandum of understanding between the Walter and Eliza Hall Institute, University of Melbourne, Cancer Trials Australia and China's prestigious Nanjing University in Jiangsu province.
The innovative new centre will enable researchers and clinicians to fast-track discoveries in basic scientific research into improved care for patients all over the world.
Institute director Professor Doug Hilton said the venture would promote cooperation and increase the capabilities of researchers and clinicians in Australia and China by facilitating the exchange of skills, knowledge and resources.
"As Australia's oldest biomedical research organisation, the Walter and Eliza Hall Institute is taking the lead to develop and strengthen ties with top Chinese institutions, bringing biomedicine's best and brightest together to improve patient care – including for primary health – in both countries," Professor Hilton said.
Professor Hilton said the venture was forged through early collaborative work with La Trobe University and in partnership with the University of Melbourne and Cancer Trials Australia.
"Our powerful alliance will deliver unparalleled opportunities for Melbourne's world-class biotech sector to collaborate with its Chinese counterparts to help prevent and treat cancer, as well as infectious or immunological diseases," Professor Hilton said.
University of Melbourne Vice-Chancellor, Professor Glyn Davis, said the venture offered outstanding opportunities for biomedical research in Victoria.
"We are confident the collaboration will offer our students and academic researchers unique opportunities to excel with academic partners in China, as well as drive innovation and growth in the biotechnology and healthcare sectors," Professor Davis said.
President of Nanjing University, Professor Jun Chen, said the cooperation offered opportunities for joint training of undergraduate and graduate students, joint teaching, research collaboration and technology transfer.
"This venture is an example of Nanjing University's international outlook, innovation and entrepreneurship," Professor Chen said.
Professor Zichun Hua, Executive Dean of the School of Life Sciences from Nanjing University and Director of Pharmaceutical Biotechnology Research Institute of Jiangsu Industrial Technology Research Institutes at Nanjing University said the initiative provided access to Melbourne's expertise in translational medicine and to the Australian clinical trial system, particularly in phase I clinical trials.
"Such access builds on the trials conducted by Cancer Trials Australia and will facilitate the timely progression of promising Chinese drug candidates to the clinic and global markets," Professor Hua said.
Chair of Cancer Trials Australia, Professor Andrew Scott said it was clear the partnership would evolve into a greater involvement with scientists and clinicians, and the emerging Chinese biotechnology and capital sectors.
"By combining expertise in first-in-human trials and in larger patient cohort trials, with skills in bioinformatics, genomics, biology and medicinal chemistry, the partnership will accelerate developments in the area of personalised medicine," Professor Scott said.
For more information:
Arunee Wilson
Media and Publications Advisor
P: +61 3 9345 2719
M: +61 478 714 757
E: wilson.a@wehi.edu.au