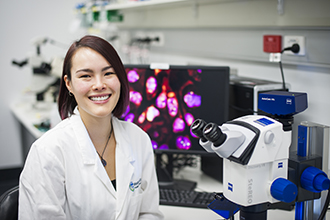 Stunning images telling stories of scientific discovery by researchers at the Walter and Eliza Hall Institute feature in the Art of Science 2016 exhibition at Melbourne's Federation Square.
Coinciding with National Science Week, the free exhibition runs from 12-21 August 2016 and showcases works from the Institute's annual Art of Science awards, a competition that has been running since 1997.
Competition founder and former Institute director Professor Suzanne Cory said the process of 'imaging' plays a powerful role in advancing medical research at the Institute.
"The ability to visualise intricate biological systems can give scientists important insights into how diseases develop, spread, and respond to treatment," Professor Cory said.
"The Institute's advanced imaging technologies and computational analysis allow researchers to 'see' at the molecular level, where the structures of cells and organs can be carefully examined in unprecedented detail," she said.
Art of Science images have been created during research into disease areas such as cancer, immune disorders and infectious diseases.
Cancer researcher and Art of Science 2016 finalist, Casey Ah-Cann, said her entry Burning Breath is from studies into lung cancer, a disease that accounts for 6000 deaths in Australia each year.
"While using florescent light and stains to uncover how lung cancer cells survive, I captured an image that looks like a mass of glittering baubles in hot pinks and oranges.
"The bright yellow flecks within the 'baubles' are actually genes that govern the development of the cell," Ms Ah-Cann said.
"It's a pretty cool feeling, to know something that no one else in the world knows, then share that knowledge and contribute to health," she said.
The Art of Science 2016 Award winners were announced at the exhibition launch on 11 August 2016. The Director's Choice and People's Choice Awards will be presented at the Institute's Celebrating Discovery event in November 2016.
For more information:
Arunee Wilson
Media and Publications Advisor
P: +61 3 9345 2719
M: +61 478 714 757
E: wilson.a@wehi.edu.au