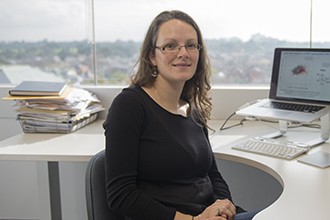 Five of Melbourne's largest medical research institutes have today launched a new partnership to tackle the problem of the underrepresentation of women among Australia's science leaders.
The Women in Science Parkville Precinct (WiSPP) brings together researchers from The Doherty Institute for Infection and Immunity, The Florey Institute of Neuroscience and Mental Health, the Murdoch Children's Research Institute, the Peter MacCallum Cancer Centre and the Walter and Eliza Hall Institute. Collectively these organisations employ more than 4000 medical researchers.
This month, The Trust Company Australia Foundation announced $100,000 in support for WiSPP initiatives.
Professor Kathryn North, director of the Murdoch Children's Research Institute and one of the institute directors leading WiSPP, said women currently comprise fewer than one-in-five researchers at senior levels of Australian universities and research institutes, despite the majority of Australian science graduates being women.
"More women than men are lost at every level of the science career ladder," Professor North said. "WiSPP involves representatives of all career stages of medical research, from the directors of the five institutes to early career researchers and students.
"Many individual research organisations have implemented programs to redress the gender imbalance at senior levels of their workforce. However, many of the issues that limit the progression of women in science are sector-wide problems. By bringing five research organisations together we can tackle bigger and broader issues than any one organisation can resolve," Professor North said.
The director of The Doherty Institute for Infection and Immunity, Professor Sharon Lewin, said she was delighted to be part of this initiative to encourage greater gender equity and support women in science. "As a newly formed institute we have the opportunity to establish forward thinking policies and a foundation of a positive institutional culture – one that is nourishing for the ideas and work of everybody, regardless of gender," she said.
Professor Doug Hilton, director of the Walter and Eliza Hall Institute, said the loss of talented female researchers was an issue that required urgent action to ensure Australia's research excellence was maintained. "If women are not entering senior roles in research at the same rate as men, this represents a huge loss of talent from the sector," he said.
"For too long, many people in leadership positions have either denied that gender imbalance is a problem, or dismissed it as 'too hard'. However, when you speak to researchers, there is widespread support, and lots of creative ideas for measures that support and encourage female scientists. Many are not difficult or costly to implement, but just require willingness on the part of people in leadership positions.
"I see WiSPP as an important initiative for bringing momentum to broader improvements across the research sector, initiatives that require support from government and other stakeholders," Professor Hilton said.
Walter and Eliza Hall Institute laboratory head Dr Marnie Blewitt said she had found many of the institute's existing gender equity measures to be valuable. "Initiatives such as support to continue research during maternity leave and childcare assistance have made it easier for me to advance my career while having young children," she said.
"It is important that gender equity goes beyond assisting mothers. I think it is vital that WiSPP explores ways to change the culture of science to ensure more women choose to remain in the sector. This is essential to achieve gender equity in the long run, and to create a better and more equitable working environment for all," Dr Blewitt said.
Further information:
Vanessa Solomon
Communications Adviser
P: +61 9345 2971
M: +61 431 766 715
E: solomon@wehi.edu.au