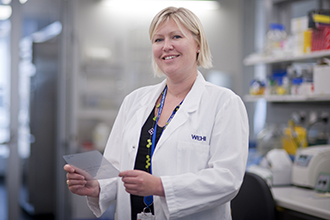 Platelet scientist Dr Emma Josefsson and malaria researcher Dr Justin Boddey are the joint recipients of the Walter and Eliza Hall Institute's top research award, the 2014 Burnet Prize.
The Burnet Prize recognises early career scientists for their pioneering research and was established in 1987 through a bequest of former director Sir Frank Macfarlane Burnet. The prize was awarded tonight at the institute's Annual General Meeting.
Dr Emma Josefsson from the Cancer and Haematology division is investigating how key blood cells called platelets form and what goes awry when disease occurs, while Dr Justin Boddey from the Infection and Immunity division studies how the malaria parasite 'renovates' red blood cells to cause disease.
Institute director Professor Doug Hilton said their incredible contributions to science earned both Dr Josefsson and Dr Boddey the 2014 Burnet Prize. "Both scientists are to be commended for their influential and high-quality research," he said.
"Emma's work on the factors controlling platelet production has helped to uncover the molecular controls of platelets, with possible implications for cancer treatment. Justin has made significant inroads in our understanding of malaria, including identifying a new antimalarial drug target and potential treatment for malaria. It is a pleasure to see them recognised for their excellent work."
Dr Josefsson said her team's research had drastically shifted the understanding of how platelets formed, overturning the previously accepted theory of how platelets were produced by their parent cells (megakaryocytes).
"When we have too many or too few platelets problems can arise, including excessive bleeding or an increased risk of blood clots," Dr Josefsson said.
"We showed that, rather than platelets being produced by programmed cell death (apoptosis), megakaryocytes must actively avoid cell death in order to produce platelets," she said. "Low platelet numbers are a potentially life-threatening side-effect of some cancer treatments, and this discovery could help to develop new ways of preventing platelet cell death in patients undergoing chemotherapy."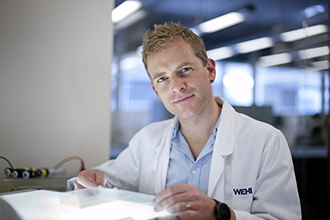 Dr Boddey said his work focused on discovering potential weaknesses in the parasite responsible for malaria. "The Plasmodium parasite invades red blood cells to hide from the immune system," he said. "To survive, malaria needs to renovate the blood cell it invades so that it can take up nutrients, multiply and evade removal by the immune system.
With colleagues from the ACRF Chemical Biology division, Dr Boddey discovered the mechanism the Plasmodium parasite uses to export proteins. "We developed a small molecule that blocks Plasmepsin V, a protein essential for protein export," Dr Boddey said. "This small molecule demonstrated that Plasmepsin V is essential for parasite survival, and also provided a potential new class of antimalarial drugs for treating malaria."
The Burnet Prize includes a cash prize of $2000 and a bronze plaque created by acclaimed Melbourne sculptor Michael Meszaros.
Further information:
Alan Gill
Science Communications Officer
P: +61 3 9345 2719
E: gill.a@wehi.edu.au