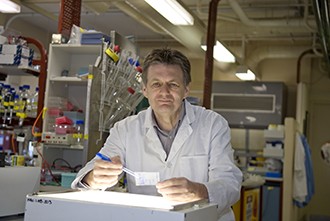 Institute researcher Professor Alan Cowman has won the Mahathir Science Award in Tropical Research, awarded by the Mahathir Science Award Foundation through the Academy of Sciences Malaysia, in recognition of his substantial contributions to understanding malaria.
Mahathir Science Award Foundation chairman Tun Ahmad Sarji Abdul Hamid made the announcement last week.
Professor Cowman has been integral to the global malaria research effort, leading studies into how the Plasmodium parasites that cause malaria develop drug resistance as well as understanding the biology of how malaria parasites invade and remodel red blood cells in humans. His work has led to the development of two potential malaria vaccines, one of which is in clinical trials in the US and the other in preclinical development.
Professor Cowman said he was delighted to receive the award. "Malaria is a devastating disease in tropical and sub-tropical regions, infecting more than 200 million people worldwide, " he said. "The Mahathir Science Award in Tropical Medicine is an outstanding accolade for the many scientists I have collaborated with at the Walter and Eliza Hall Institute and beyond who have made possible the advances we have made in understanding malaria."
Tun Ahmad Sarji Abdul Hamid said Professor Cowman was chosen from 29 nominees across 11 countries. "Each nomination has undergone a stringent selection process conducted by the distinguished Fellows of the Academy of Science Malaysia, and also evaluated by an International Advisory Panel comprising Nobel Laureates and world-renowned scientists," he said.
Professor Cowman from the Infection and Immunity division has dedicated his more than 30-year career to improving understanding of malaria biology, and developing vaccines that will prevent the spread of malaria. He is a Fellow of the Royal Society and the Australian Academy of Science. Professor Cowman has received numerous national and international grants and fellowships. His many awards include the 2013 Victoria Prize for Science and Innovation, the Howard Taylor Ricketts Medal for Infectious Diseases from the University of Chicago, the Commonwealth of Australia Centenary Medal and the Australian National Heath and Medical Research Council Research Achievement Award.
The Mahathir Science Award recognises scientists and institutions worldwide that solve problems of the tropics through science and technology. The winner receives a gold medal and US $100,000. An official prize-giving ceremony will be held in 2014.
Further information:
Alan Gill
Science Communications Officer
P: +61 3 9345 2719
E: gill.a@wehi.edu.au