It's the pandemic that has gripped the modern world for almost two years.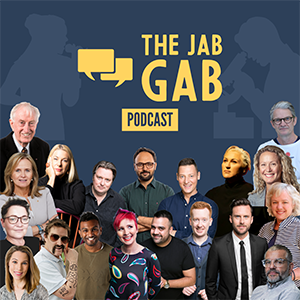 Face masks, QR codes and the home-schooling that became the bane of our existence – we've all lived through an era that will go down in history. Yet, with borders slowly opening up and restrictions easing, a COVID-normal world is now upon us.
It's thanks to the significant medical advancements that have made the COVID-19 vaccines on-offer today, possible. But while the peak of the pandemic may have passed, new variants are emerging and vaccine hesitancy still lingers in parts of the community.
It's an issue The Gab Jab tackles, through a collaboration between Australia's leading scientists and Australia's best-known comedians. A space where funny meets smart, as the experts dissect the latest COVID-19 talking points, while the celebrities help translate their answers using the important tool of humour.
Like chocolate and chilli, this podcast has a combo that surprisingly works (and we advise you to try both if you haven't already).
Diversifying the vaccine conversation
In the latest episode of this five-part series, host Dr Shalin Naik is joined by comedians Luke McGregor and Dave Thornton, with Nobel Laureate Professor Peter Doherty to discuss Omicron, vaccine safety and what winning a Nobel Prize is actually like.
Comedian Cal Wilson, who appeared on the first episode, says it was both fascinating and reassuring to talk to actual scientists on these key issues.
"A podcast like this is truly a breath of fresh air, especially at a time where we may find a lot of vaccine misinformation and polarisation in the community", Ms Wilson said.
"I love that there is a podcast now that aims to target people who may be vaccine hesistant."

"The series has also made it abundantly clear that doctors and scientists are more entertaining than they have any right to be. I think I'll have to find a cure for something now, just to keep it even."
The scientists who have graced the podcast include Professor Sharon Lewin (Director of the Doherty Institute), Professor Brendan Crabb (Director of the Burnet Institute), Professor Margie Danchin (Paediatrician at the Murdorch Children's Research Institute) and Nobel laureate Professor Peter Doherty.
The other comedians include Chopper, Nazeem Hussain, Merrick Watts and Meshel Laurie.
This is a free, online podcast available for individual download or broadcast. The Jab Gab also needs your help in getting the word out, especially in reaching those in the community who are vaccine-hesitant or choosing to remain unvaccinated.
---
The Jab Gab is hosted by scientist and TV presenter Shalin Naik (WEHI, Ask The Doctor and Catalyst) and produced by TV and podcast producer Ged Wood (Gogglebox, The Block, Spicks and Specks, There Will Be A Test).